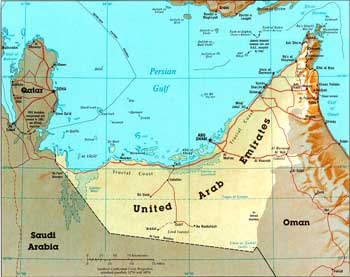 The UAE's high national income has allowed it to become one of the largest defence spenders in the Arab world, and one of the world's largest spenders per man in uniform. The International Institute for Strategic Studies (IISS) estimates that the UAE's defence budget was $9.23 billion in 2003, $9.74 billion in 2004 and $9.74 billion in 2005.
The UAE has also been a major and ambitious arms importer. In the 1993-1996 period, the sum of new arms deliveries was $3.7 billion, in 1997-2000 it was $4.2 billion and in 2001-2004 it was $6.8 billion.
Recent purchases include 32 Funchs, 2 NBC 6x6 vehicles, 500 Nimr high mobility tactical vehicles (HMTVs), 390 Leclerc main battle tanks, nearly 150 other armored vehicles, two Corvettes, two Type 332 mine-hunters,
80 F-16C/D Block 60s with advanced air and air to surface munitions, 10 AH-64s and the upgrade of 30 to the Apache-Longbow, eight AB139 helicopters, plans for upgrading 12 CH47C Chinooks, and what may come to total over 90 Mirage 2000 fighters.
Provide your tailor-made and cost effective solutions to the Emirates' threats and security problems.
This Report is intended to outline the figures you may need for a deep study of the UAE country, its threats, security problems and international disputes, as well as its Armed Forces organization, defence priorities, equipment procurement and military expenditures, followed by an overview on Gulf military balance.
This defence market study includes the following topics:
Introduction to the Gulf Arab Countries


Kuwait
Bahrain
Qatar
United Arab Emirates
Oman

The Gulf Cooperation Council - GCC


Tribal Nature of the Gulf Society

The Threats and Internal Security Problems


Gulf Regional and National Security Considerations
Collective Security under the Gulf Cooperation Council - GCC
Military Capabilities of the Gulf Arab States
Kuwait Internal Security
Oman Internal Security
Territorial Disputes
The Shias of the western Gulf countries